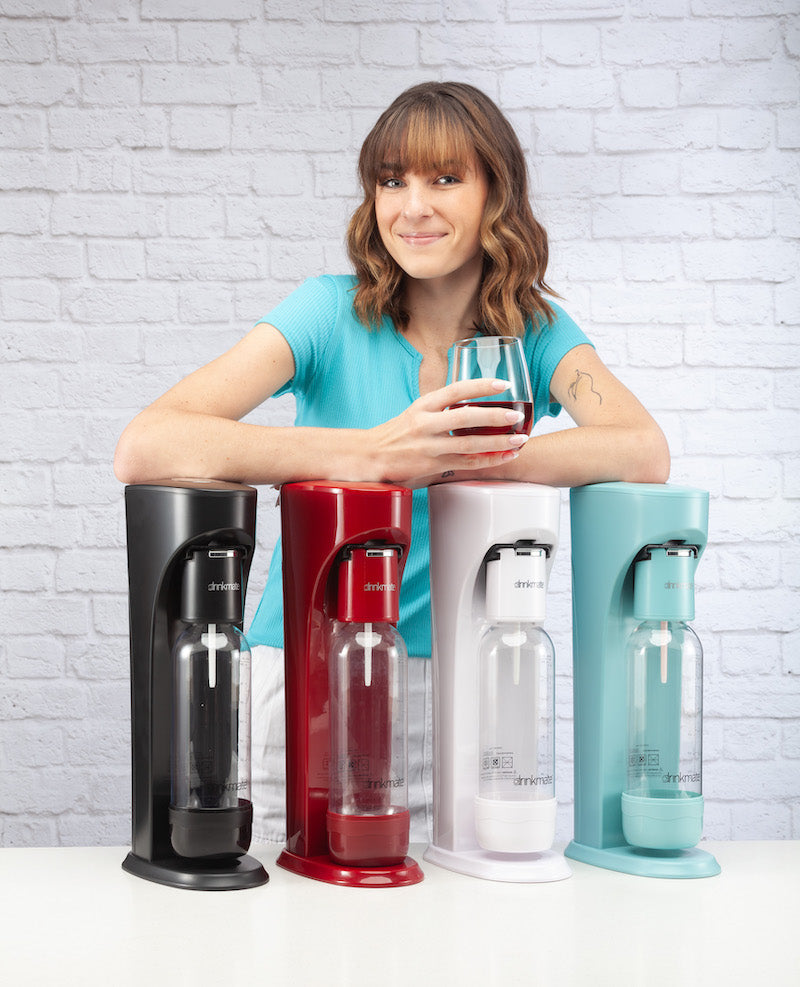 Add Elegance to Your Kitchen or Bar with the Drinkmate OmniFizz
Want to make your kitchen more efficient? Don't want to sacrifice on style?
Drinkmate is sleek and elegant for any kitchen, taking up very little counterspace. The Drinkmate OmniFizz is less bulky than other carbonated water machines. The OmniFizz requires no electricity, so it can be placed easily anywhere in the kitchen and costs less to operate.
"After deciding I was going to purchase a soda maker. I came across some else's review about the Drinkmate, of which I appreciated. This is mine. I love that it's slender. You can put it just about anywhere. I love that you can carbonate anything. And when I visit my local grocery store I smile and know that I don't have to scramble for coupons or weekly ads. I absolutely love my Drinkmate," Joann, verified purchase review
If you're picky about choosing the right home carbonator, Drinkmate is the only home carbonator that allows you to carbonate any beverage without dilution!
To us, it's a no brainer! The Drinkmate OmniFizz is:
Powered by food grade CO2 gas
A great way to avoid excess sugary beverages and harmful chemicals
Safe, quick and easy to operate
Able to help you reduce plastic waste with our easy CO2 Exchange Program
A money saver
An easy way to carbonate any drink, even cocktails without dilution!
"Now I can drink my sparkling water to my heart's content," Maya, verified purchase review
Experience the Difference!
What's unique about Drinkmate? You can directly carbonate any beverage, even cocktails! You can make your favorite drinks fizzy without diluting your favorite cocktail with soda water. Just pour all your ingredients into the Drinkmate bottle and carbonate!
Drinkmate lets you explore new sparkling drink options with better mixing of ingredients and stronger carbonation. Say goodbye to watered down drinks!
Now Available – Drinkmate Premium Italian Syrups! 
Spice up your drink routine with Drinkmate Premium Italian Syrups. Your sparkling drink options are endless with our 4 flavors: Mojito Mocktail, Ginger and Lemon, Pink Grapefruit, and an Energy Drink mix.
All syrups are manufactured in Italy with the following features:
Made from Premium Italian ingredients
17oz (500ml), low calories, low sugar (cane sugar), made with natural flavors
Icy-effect bottle reflects sun-light to keep a 2-year shelf life
Become a Drinkmate VIP!
Sign up for our VIP program! Earn bubble bucks to use towards your next purchase, find new recipes, register your Drinkmate machine and more!