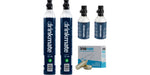 CO2 Supplies
If you experience any issues viewing this page, please ensure all Adblockers are disabled.
Buy CO2 Refill Supplies to refill Drinkmate, SodaStream (except pink label quick-connect machines), Aarke, and iSoda machines. Drinkmate cylinders come filled with food grade CO2, and are made of durable aluminum to US DOT standards. 
Keep extra cylinders on hand so you don't run out. Be sure to also check out our 8g CO2 chargers- which fit other seltzer makers and beer kegs. 
*Cannot ship 60L CO2 to PO Boxes*
Click here for CO2 Exchange info!
For Drinkmate CO2 MSDS information, click here.