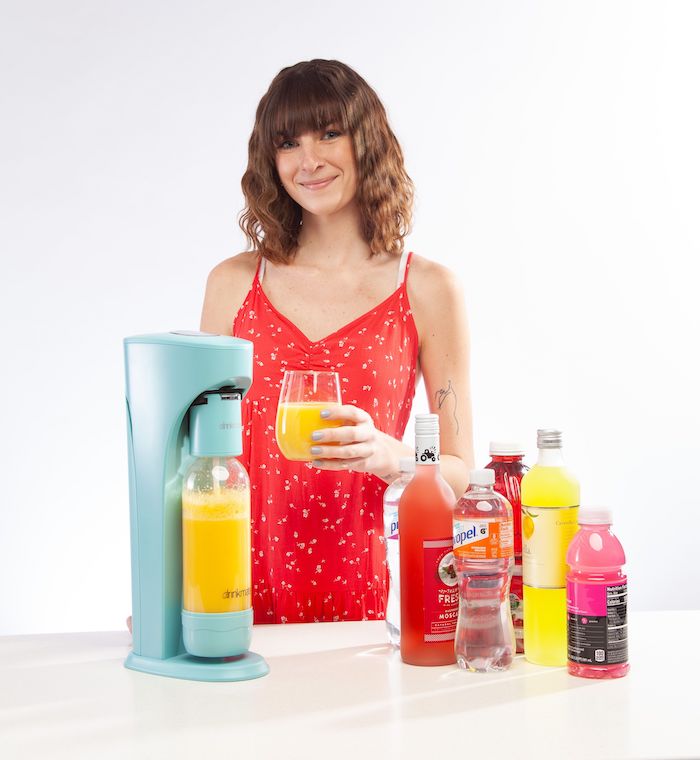 10 Things You Can't Sparkle with Sodastream
Drinkmate is more than just a water carbonator. You can carbonate almost any drink!
While most other brands can only make sparkling water, Drinkmate does that and more!
Did you know you can add carbonation to just about any drink with Drinkmate, including these:
Cider
Iced Tea
Juice
Coffee
Wine
Champagne
Beer
Flat Soda
Liquor
Energy drinks
Cocktails at home, with a Twist!
With Drinkmate you can combine all liquid ingredients before carbonating. Add to the Drinkmate bottle up to the Max Fill line or below. Shake the bottle to mix your ingredients before carbonating. Push the button to carbonate. Shake gently again for 5 seconds, let it stand 5 seconds, then release the pressure, adjusting the speed as needed to avoid foam reaching the top.  Pour into an ice filled glass if you desire! 
Fizzy Drinks in Seconds!
Yes, you read that right. You can directly carbonate your cocktail without diluting it with carbonated water. With Sodastream, you have to put in your tonic water last. Drinkmate allows you to carbonate with all your ingredients in our bottle. Just add fizz and enjoy! 
Now Available – Drinkmate Premium Italian Syrups! 
Your sparkling drink options are endless with our 6 flavors including: Blood Orange, Sorrento Lemonade, Mojito Mocktail, Ginger and Lemon, Pink Grapefruit, and an Energy Drink mix.
All syrups are manufactured in Italy with the following features:
Made from Premium Italian ingredients
17oz (500ml), low calories, low sugar (cane sugar), made with natural flavors
Icy-effect bottle reflects sun-light to keep a 2-year shelf life
Experience the difference! Try the Drinkmate Carbonated Drink Machine Today!
The Drinkmate countertop is available in a variety of stylish colors to match your other kitchen appliances. 
Add a little sparkle to your life with the Drinkmate carbonated drink machine! Shop now!