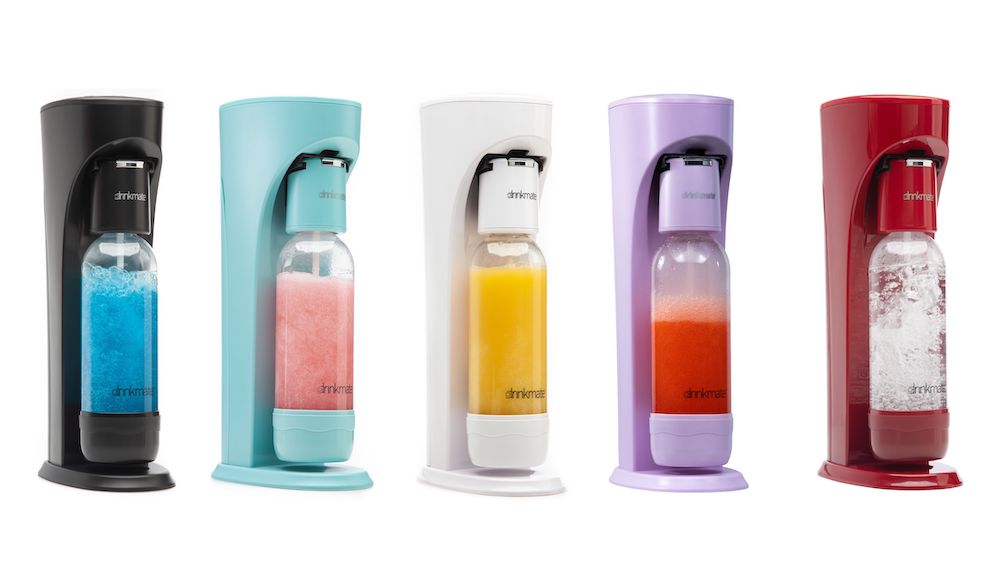 What is OmniFizz?
Fizzy bubbles. Carbonates anything. Doesn't dilute. That's the Drinkmate OmniFizz – a sparkling water machine to invigorate your taste buds!
"I make Coke with coffee by bulk. Needless to say, it goes flat before I can drink it all. The Drinkmate puts the fizz back, actually better than it originally was. Love it!!!" 
Greggory Bartlett, review
"This product excels! We love the taste of wine with bubbles!"
Helen Zinni 
"This thing is fantastic! It is such a relief to never have to buy pop again."
 Matt Lawrence
Drinkmate is the First & Most Versatile Home Beverage Carbonator 
What's unique about the DrinkMate OmniFizz is that it can accommodate more than water due to its pressure-release valve. If you try to carbonate juice or alcohol in a standard carbonation machine, it will make a HUGE mess because the carbonation level is too high. It may also ruin the machine and void its warranty. Having the option to carbonate more than water with the Drinkmate is a big differentiator from other competitors. It also makes hosting gatherings a little more fun, as you're able to offer guests custom fizzy cocktails! Read more about the unique gadget here.
How does the Drinkmate OmniFizz Work?
The Drinkmate OmniFizz is so easy to use! To get your Drinkmate setup, follow these instructions: 
Step 1: Load the CO2 cylinder if you're using the product for the first time. 
Step 2: Fill the bottle with the cold beverage of your choice. See recipes here!
Step 3: Push the button to carbonate. 
Step 4: Release the pressure and enjoy!
Keep the Fizz Flowing with the Drinkmate OmniFizz!
If you like fizz without the cost of buying fizzy beverages at the grocery store, the Drinkmate OmniFizz allows you to carbonate anything and make delicious healthy beverages at home at a fraction of the cost!
Don't Wait – It's Time to Add Some Sparkle to Your Life!
Ready to buy the Drinkmate OmniFizz – a sparkling water machine for you or a loved one for the holiday season? Shop here! You'll love the extra carbonation in your life!