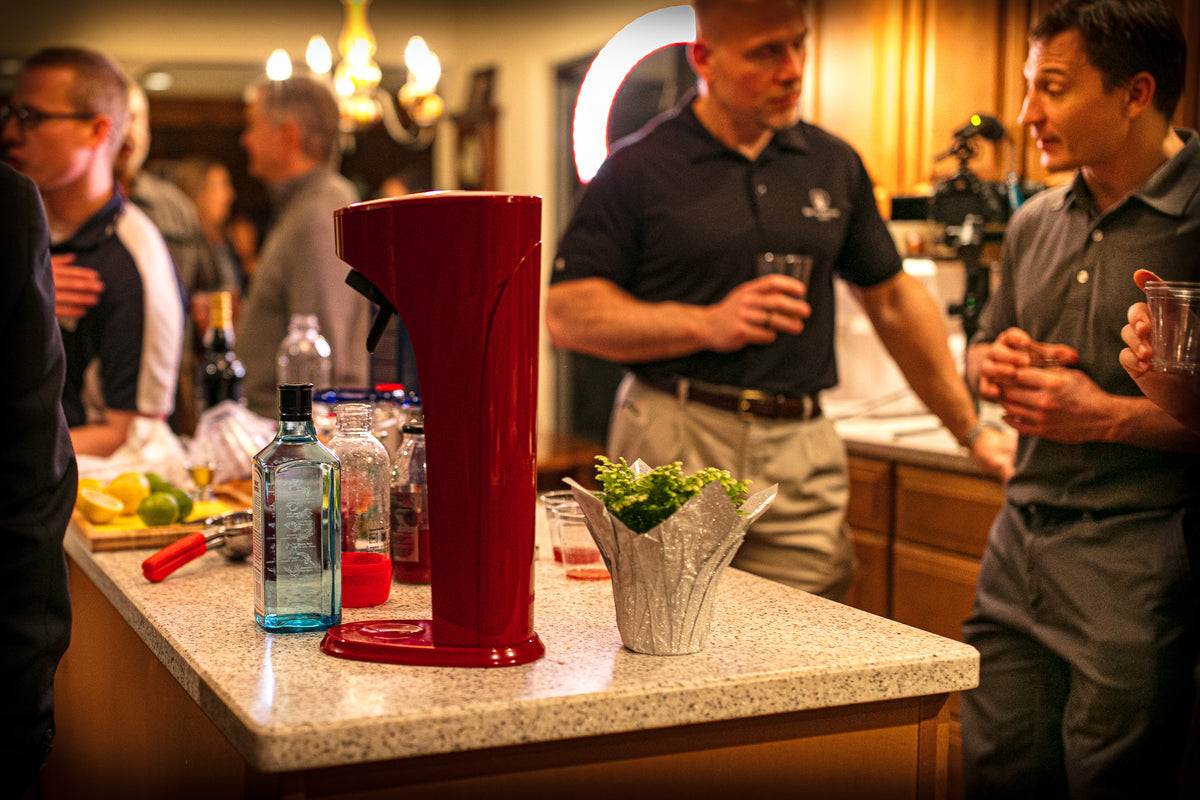 Add Sparkle to Virtually Any Drink with the Drinkmate Soda Maker!
Like us, you've probably tried just about every kind of bottled soda from the stores. Some are good, some are so-so. Our customers have told us what they like and what they have struggled with, and we've listened. Some of the issues they've mentioned to us are things like:
 
"Is there a way to save money on sparkling water from the store?"
 
"Can I add carbonation to other drinks besides water?"
 
Or sometimes just really simple questions like:
"How can I cut down on sugar?"
 
Or "Can I help the environment by cutting down on bottles and cans?"
Convenience and Sustainability in a Soda Maker?
Many of the great folks who have purchased the Drinkmate or the Drinkmate Spritzer started out with these concerns. Our guess is that it would be helpful if you knew that not only can you save money with the Drinkmate soda maker, but that it solves many of these other concerns as well.

Would it also be helpful if you knew that by using Drinkmate, you can avoid lugging boxes of canned water home, and then lugging the empty cans back to the store for the deposit? Or that when you make sparkling water with the Drinkmate, you can add absolutely no sugar? How about that the Drinkmate soda maker can add carbonation to virtually any beverage? We're always trying to expand the ideas we share about using our carbonation machine — that's why we offer cocktail and mocktail recipes right here on our website.


Kick Start Your Parties with More Sparkle
You've probably had a few parties that just seemed to go better than others: more laughter, more engagement, better conversations, and better food and drink. Wouldn't you like to be able to reliably host your friends and relatives, be able to serve them creative new drinks, and have a conversation starter like the Drinkmate on the kitchen counter?

Besides being attractive and easy to use, the Drinkmate and Drinkmate Spritzer have one unique feature that makes them better than almost every other soda maker. That feature is that they can carbonate virtually any beverage! That means you don't have to buy syrup or add sugar to your drinks unless you absolutely want to. Imagine being able to carbonate things like:
Margaritas
Orange juice
Iced tea
Sports drinks
Cold brew coffee
Vodka and tonic
And almost anything else!
Buy the Drinkmate Soda Maker and Accessories 
Buying your Drinkmate soda maker is easy. Just select the product you want here and add it to your shopping cart!

Ordering new CO2 cylinders is easy! Drinkmate will take back your empty CO2 cylinders to be cleaned, inspected, refilled, and reused. We automatically include a prepaid return label on all new CO2 pack orders. Just reuse the box and apply the supplied label. When we receive them, we'll email you a gift card rebate for your next purchase!


Terrific Warranty to Protect Your Purchase
Drinkmate comes with a 2-year consumer warranty and a 1-year warranty for commercial use. The Drinkmate Spritzer is warranted for 1 year of consumer use, and six months for commercial use.

Ready to buy the Drinkmate or the Drinkmate Spritzer? Shop here! You'll love the extra sparkle in your life!